Things that you should check before you decide to go for Laser Hair removal session
LASER Hair Removal ( LHR)
Does the Clinic perform a Patch Test
It is always advisable to do a patch test if this is the first time you are going for Laser Hair Removal ( LHR)
Does the Clinic have qualified Technicians
Check if the staff has experience and qualified for the task.
Does the Clinic have the LHR machine suitable for your skin type
Different LHR machines works on different type of Skin tones , Skin is divided into five types ( I – V) I is fair and V is Dark.
IPL : Very common and cheap , small and compact not very effective for long term results .

Ruby: Old technology. If they only have this type of laser, find another clinic.

Diode: 810 nm. Good for pale to dark-colored skin, skin types I-V.

Alexandrite: 755 nm. Works best on pale skin colors, skin type I-III. Not safe for some darker skin colors.

Nd:YAG: 1064 nm. The only laser currently on the market that can work with all skin types I-VI.
Apart from the type of Laser , it is important to check if it is a Professional Machine and suitable for clinical use. All Professional LHR machines are heavy and need high current to work, this is because the power of the LASER is very crucial to penetrate through the hair follicles and damage the tube-shaped sacs but at the same time not to damage the adjacent cells this is due to the precise wavelength of the LASER light . Small hand held or portable machines may not be able to deliver the same power and  the wavelength is not precise .
The machines that are clinically proven to be safe are generally FDA approved Machines.
In RIVO we  use FDA approved machines – Syneron Medical Diode machine ( Israel ) and soon introducing the Candela Nd:YAG  ( USA) in October 2021. These brand come under the TOP 5 worldwide. Yes they are very expensive machines the cost ranges from 40 Lakhs to 60 Lakhs . This is the reason all our clients are very satisfied with their results and recommend their friends and family to us in good faith. This is the secret to our growth.
A good clinic will let you know if  you are not a suitable candidate for LHR  or will not have the required results for multiple reasons like PCOD , Hormonal issues etc.
How does it work
Laser hair removal is the deliberate removal of body hair using the technology of laser. Thicker hair can often be in unwanted places or too excessive, laser hair removal is directed towards the removal or reduction hair.
Laser hair removal works by targeting the hair follicle with laser light, this energy damages and goes on to destroy the hair follicle, thus stopping the follicle from producing further hairs. The laser delivers an intense beam of light, which is absorbed by the hair follicle whilst the surrounding tissue remains unaffected.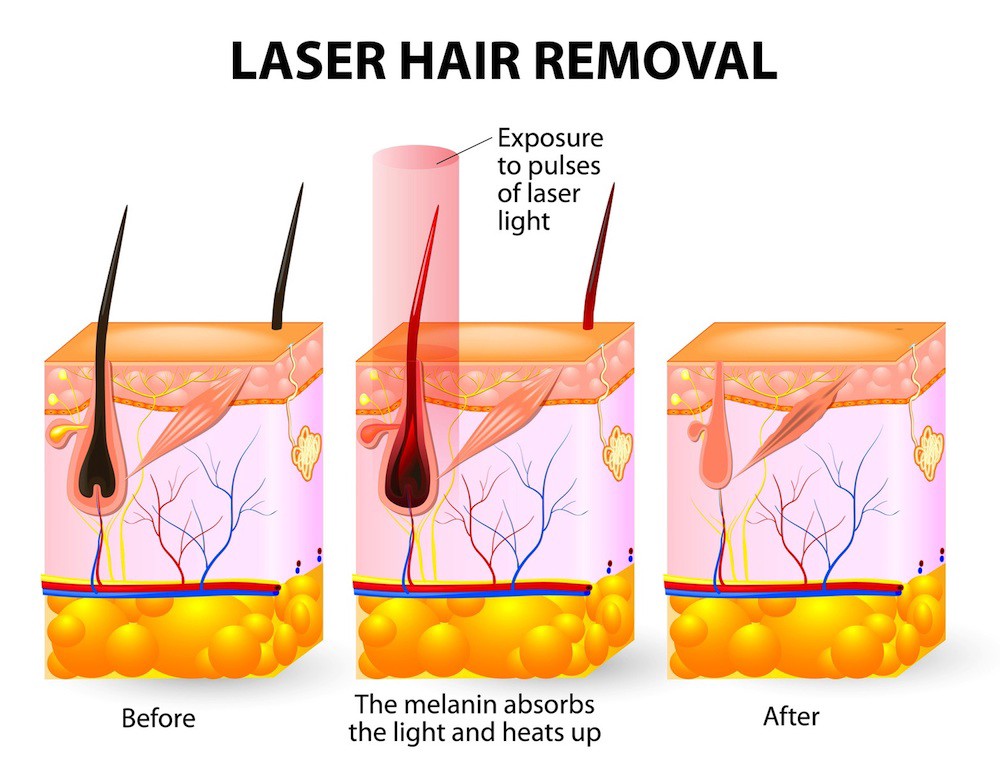 This process is called selective photothermolysis (photo means light and thermolysis means to destroy with heat). It is selective as it targets hair and not skin.
Laser hair removal is not electrolysis. Electrolysis works by directing an electric current into each individual hair follicle which is painful and time consuming. Laser can target a large amount of hairs in one go virtually pain free.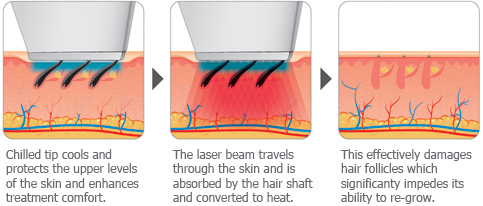 Benefits of LASER Hair Removal
BENEFITS OF LASER HAIR REMOVAL
Beautifully smooth, clear, hair-free skin.
Ideal for promoting hygiene.
 Reduces time spent shaving your hair at home.
Eliminating issues and irritation with ingrowing hair.
Facilitates healing and massages.
 Better long-term investment financially.
Which Laser is suitable for Indian Skin
Laser Hair Removal Indian Skin Types
Laser hair removal works by targeting the melanin in the hair follicle with laser light, this energy damages and goes on to destroy the hair follicle, thus stopping the follicle from producing further hairs. The newest lasers on the market now have the ability to target the melanin in the root of the hair without dispersing into the surrounding skin, which for Indians may have a higher melanin content, allowing laser hair removal to work effectively on Indian skin.
Talking specifically about Indian skin can be rather tricky because that covers a very broad range of skin types and tones. Indian skin and hair comes under the category of Asian, though of course Asian is very broad term too, and there are many smaller variations between countries and regions.
That said, Asian skin generally has these characteristics: It tends to be slightly darker than Caucasian skin it is also more prone to hyperpigmentation and scarring, whether from insect bites, light scratches or after an injury or surgery.
The hair also differs, the actual space between cuticle cells is narrower, there are more cells, and these are denser and stronger. These factors have kept Indian people away from laser hair removal in the past. More sensitive skin and stronger hair!
In the past laser hair removal wasn't safe and effective for Indian skin due to these factors, but as the laser industry has advanced this is now possible and there are very effective and safe lasers on the market.
There are now a few different lasers available for Indian skin but the one we would most recommend is the NDYag  This laser penetrates deep into the skin picking up only on the hair and not the pigment in the skin, this is vital as it allows you to miss the melanin in the skin, and by hitting only the hair follicle you avoid any trauma that could scar your skin. The NdYag also works great on thick, strong hair which is just perfect for the strong Indian hair.
We want to make sure that good laser hair removal treatment is available to you! And we do have a lot of experience using this laser on Indian hair and we can tell you now that you will certainly be seeing good results with no negative side effects.
NDYag Laser hair removal works effectively on both fine and thick hairs on:
Fair complexion
Wheatish complexion
Dark complexion
There are many types of LASER – IPL ,Diode , NDYag and Alexandrite .
Always confirm which Machine is the Clinic using and is it FDA Approved Machine . The United States Food and Drug Administration (FDA or USFDA) is a federal agency of the Department of Health and Human Services. The FDA is responsible for protecting and promoting public health through the control and supervision of food safety, tobacco products, dietary supplements, prescription and over-the-counter pharmaceutical drugs (medications), vaccines, biopharmaceuticals, blood transfusions, medical devices, electromagnetic radiation emitting devices (ERED), cosmetics, animal foods & feed[4] and veterinary products.
Pre-Care & Post-Care for Laser Hair Removal
Pre care
Prior to arriving for your treatment session
The area of treatment should be shaved at least 12 hours prior to treatment.
Wear loose-fitting clothes on the day.
Avoid alcohol or smoking the night before and on the day of the treatment.
Drink at least 1 litre of water the day before and the day of treatment – this helps your body to regulate its temperature.
Arrive early prior so that you are relaxed.
Do not exercise before the treatment.
Avoid applying any products on areas of treatment, keep it dry and clean prior to treatment.
Do not expose the skin to UV light (sunlight or sunbeds) or apply any self-tanning products for 8 weeks prior to treatment.
Did you know?
Two weeks after your session, your skin will be beautifully smooth, any hair regrowth will be noticeably slower and you'll wonder why you waited so long to get treated at RIVO Skin Clinic!
After care
Protecting your skin after and between sessions.
Here's what to avoid:
Avoid exposing skin to UV light (sunlight or sunbeds) or self-tan for at least 2 weeks after treatment. This is to minimize darkening of the skin (hyperpigmentation).
Avoid heat treatments such as spas, steam rooms and saunas for 7 days.
Avoid excessive scrubbing or applying pressure to the skin for 4-5 days. This is to allow the treated skin to recover and to prevent any infection.
Avoid shaving the treated area for 72 hours after treatment.
Avoid exercising for at least 48 hours.
Avoid hot baths and hot showers for 48 hours.
Avoid anything that involves chlorine (e.g. swimming) for 48 hours.
Avoid make-up on the treated area for at least 48 hours.
Avoid the application of perfumed products or bleaching creams for 48 hours.
Avoid scratching the treatment area if blistering or crusting occurs, as this can cause scarring.
Avoid waxing, tweezing and threading for the complete duration of the treatment course.
And here's what to do after your treatment and between sessions:
Do apply an ice-pack on the treated area to reduce pain, discomfort or irritation.
Do apply aloe vera gel or calming creams for 3 days after the treatment.
Do wear loose clothes to avoid friction on the treated area for 48 hours.
Do keep treated area clean and dry for 48 hours.
Do drink plenty of water.
Do use at least SPF 50 sunscreen with Zinc for at least 2 weeks.
Click "Men" for rates applicable to Men
What you see is what you pay
| | 6 Sessions | 1 Session |
| --- | --- | --- |
| Face | ₹14,999/- | ₹3,500/- |
| Upper Lips | ₹7,599/- | ₹1,500/- |
| Chin | ₹9,599/- | ₹2,500/- |
| Full Legs | ₹23,999/- | ₹5,000/- |
| Under Arms | ₹9,599/- | ₹2,000/- |
| Arms | ₹20,999/- | ₹4,000/- |
| Arms – Below elbow | ₹17,499/- | ₹3,500/- |
| Bikini | ₹15,999/- | ₹3,500/- |
For more combined offers go to HOME
© 2021 RIVO, Inc.
Click "Women" for rates applicable to Women
What you see is what you pay
| | 6 Sessions | 1 Session |
| --- | --- | --- |
| Beard Shaping | ₹10,999/- | ₹2,000/- |
| Ear Lobes | ₹4,999/- | ₹1,000/- |
| Under Arms | ₹11,999/- | ₹3,000/- |
| Chest | ₹26,699/- | ₹5,000/- |
| Back | ₹26,499/- | ₹5,000/- |
| Arms | ₹24,999/- | ₹5,000/- |
| Legs | ₹26,999/- | ₹6,000/- |
| Half Legs-below Knee |  ₹18,499/- |  ₹3,500/- |
For more combined offers go to HOME
© 2021 RIVO, Inc.